EXUIDPS Yemen Head Discusses Durable Solutions with Humanitarian Coordinator Deputy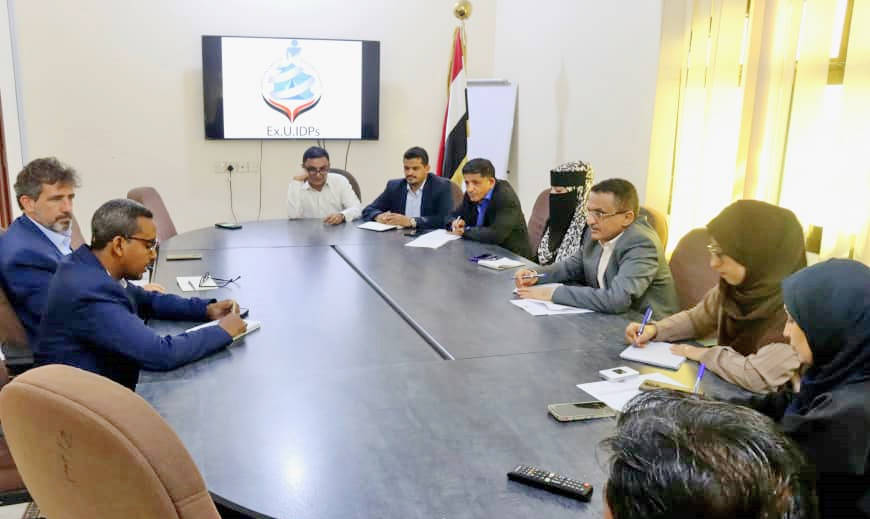 Aden, Yemen – The head of the Executive Unit for the Displaced in Yemen (EXUIDPS), Najib Al-Saadi, met with the humanitarian coordinator deputy in Yemen, Diego Zorrilla, on Sunday to discuss the transition of humanitarian work from the emergency phase to the phase of durable solutions.
During the meeting, the two sides stressed the importance of building the capacity of Yemeni government agencies and bringing in foreign experts to benefit from their expertise, which would ensure that government agencies are able to lead the work and achieve durable solutions for the displaced in Yemen.
They also emphasized the need to use the real statistics of displaced persons and returnees, which resulted from the regional assessment survey that was carried out in partnership between the Executive Unit, the International Organization for Migration, and the Central Statistical Office. This is because the statistics used previously in the 2023 humanitarian response plan and the humanitarian needs overview do not reflect the correct numbers of displaced persons in the liberated areas of Yemen or their needs.
Al-Saadi discussed the situation of displaced persons in the governorate of Jawf, in light of the absence of international organizations as a result of the management of the Jawf file from the Sa'dah Humanitarian Center.
For his part, Zorrilla explained that, based on the previous discussion that took place with the governor of Jawf, Hussein Al-Awadhi, and the Executive Unit, the follow-up of the work related to the displaced of Jawf has been transferred from the Sa'dah Humanitarian Center to the Marib Humanitarian Center. He also pointed out that the United Nations has pledged in the 2023 response plan that it will rely on the results of the 38th cycle of the regional survey in its plan for 2024.
The meeting was attended by Zakaria Saeed, assistant to the humanitarian coordinator deputy in Yemen, on behalf of the United Nations. On behalf of the Executive Unit, the meeting was attended by Hashim Thowaba, director of the unit's branch in Jawf, Dr. Abdul Nasser Al-Naqeeb, director of planning and durable solutions, and national policy expert Sahil Abdul Halim.