Summary of Multi-sector Study of IDPs in Yemen – PDF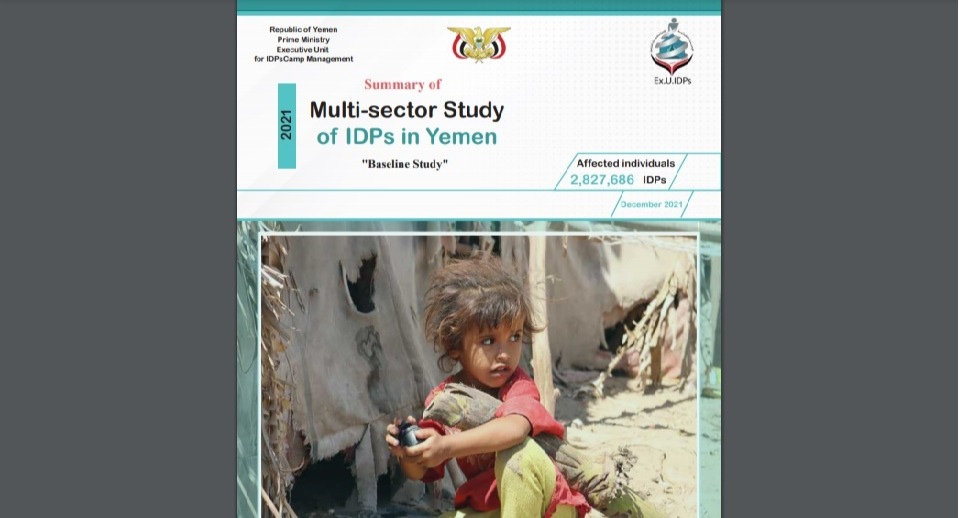 Summary of Multi-sector Study of IDPs in Yemen – PDF – Executive Unit for IDPs Camps Management
This study gains its significance as it provides information about IDPs in Yemen by collecting data in a comprehensive inventory method. It also offers a comprehensive and unified database for all needs to facilitate managing humanitarian interventions by service providers.
It is considered as a permanent database that can be updated periodically to know changes in the demographic
data of the displaced persons, and identify vulnerability cases and the needs of displaced persons in houses and camps regarding shelter, shelter materials,health, education, WASH, food security and protection, in a way that may contribute to meet their needs and mitigate the humanitarian catastrophe that befell the displaced persons as a result of the continuation of the war.
The study relied on various data collection methods such as (field visits, surveying families in camps and houses, data collection using an electronic survey form designed on the KoBo program – community committees in the camps, and focus groups).
The comprehensive survey form included 633 items distributed over eight sectors; they are as follows: demographic indicators, shelter and shelter materials indicators, WASH indicators, health and nutrition sector indicators, food security indicators, education indicators,
protection indicators and CCCM indicators. The form involved all IDPs persons in houses and camps.
Methodology of the Study
The study employed the descriptive research design through the use of frequencies and percentages of demographic indicators, shelter and shelter materials indicators, WASH indicators, health and nutrition sector indicators, food security sector indicators, education sector indicators, and protection sector indicators for the displaced persons in houses and camps. This included the following steps:
Summary of Multi-sector Study of IDPs in Yemen – PDF DOWNLOAD