Executive Unit opens the Early Warning Department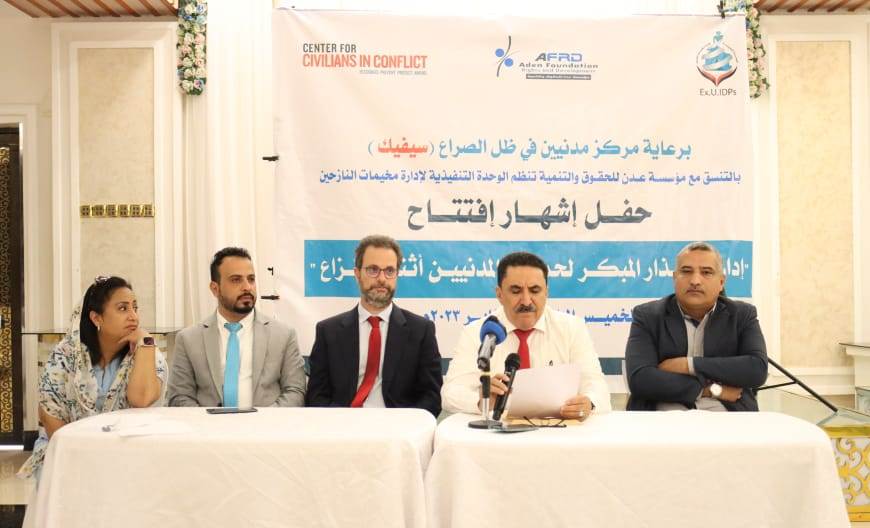 Today, Thursday, the Executive Unit for IDPs camps management opens the early warning department, which will work to mitigate natural disasters and various effects that threaten civilians.
This came during the event organized by the Executive Unit, sponsored by CIVIC
in the interim capital Aden, in the presence of government officials and a large number of representatives of international and local organizations.
This event was opened with a welcome speech by Assistant Head of the Executive Unit, Mr. Muhammad Jabari, who welcomed the attendees and thanked them for their attendance. He gave an explanation about the importance of the role of the early warning department.
"We in the Executive Unit value the partnership with the Civic Center for the Protection of Civilians in Light of Conflict and for their initiative to support the Executive Unit in establishing the early warning department," Jabari said on behalf of the head of Executive Unit , Mr. Najeeb Al-Sadee.
He added, "The early warning department represents one of the basic requirements of the national policy for dealing with internal displacement, with the aim of mitigating any effects of natural disasters or wars."
Early warning is an inevitable necessity in countries that suffer from conflicts and natural disasters and is present in most countries of the world. Therefore, the opening of the early warning department in the Executive Unit will represent a quantum leap in humanitarian work in the field of protecting and managing the displaced, especially since the Executive Unit manages 646 camps and 927 residential gatherings for the displaced in 13 governorates.
He continued, "Through our work in managing the camps for the displaced, we have noticed that IDPs camps have been exposed to material and human losses as a result of fires, floods, and the outbreak of violence. Therefore, the presence of the Early Warning Department will contribute to mitigating these human and material losses."
The Executive Director of the Civic Center, Rinoa Daniel, stressed the importance of establishing the early warning department in Yemen, which helps alleviate the suffering of the displaced.
During the event, a detailed explanation was given about the early warning department and the work mechanism in the department, then the door was opened for discussion and questions related to the work of the early warning department.
This event was attended by those interested in humanitarian work in Yemen.